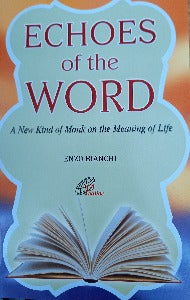 Echoes of the Word - A new kind of Monk on the Meaning of Life
R 7500

R 75.00

Save R 60
15% VAT included.
Shipping
calculated at checkout.
---
---
Author: Enzo Bianchi
Visitors to the Egyptian and Palestinian wilderness in the fourth century, would ask the elder monks for 'a word'. The 'words' given them, flowed out of the prayer and spiritual lives, communal wisdom and understanding of scripture of the Desert Fathers.

In these 45 meditations, Bianchi draws inspiration from the collections of the 'words'- the pearls of wisdom - synthesizing patristic and monastic wisdom and applying it to today's world, helping our generation walk our journey, giving direction to our inner life.

Contents include: Holiness and beauty; Vigilance; Spiritual struggle; Waiting for the Lord; Patience; Listening; Prayer of Praise; Silence; Humility and Old age.

2002/2013
Paperback
220 pages 

---
We Also Recommend