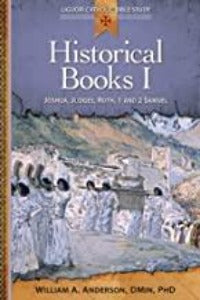 Historical Books I - Joshua, Judges, Ruth, 1 and 2 Samuel
R 26000

R 260.00
15% VAT included.
Shipping
calculated at checkout.
---
---
Liguori Catholic Bible Study
Author William A Anderson
In biblical texts, what do we mean by the term "historical"?
Who are the heroes and villains in these ancient texts?
Why is the Israelites' covenant with God so prominent in these texts?
How does lectio divina move us to pray with scripture?
After Moses' death, Joshua leads the Israelites into the Promised Land - a triumph that should have fulfilled the hopes and expectations of the Israelites, yet somehow does not. Fr Anderson describes how the journey continues for the Israelites, who encounter new struggles and ambitions.
Their story is our story in a different context. God is faithful to the covenant, but  people have difficulty grasping what God is doing in them and how large God's vision is. 
With narrative, study questions, reflections, keynotes, and prayer, your understanding of scripture will be deepened with the introduction to the spiritual practice of lectio divina.
2013
Pb
144pp
---
We Also Recommend