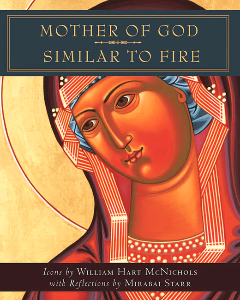 Mother of God Similar to Fire
R 39600

R 396.00
15% VAT included.
Shipping
calculated at checkout.
---
---
Icons by William Hart McNichols with reflections by Mirabai Starr 
In times of mingled hope and despair, of longing for the sacred combined with disillusionment, the image of Mary continues to hold tremendous appeal. Not only the mother of Jesus, but the quintessential Mother, the feminine face of the divine, fierce protector and gentle consoler, Mary serves as a source of inspiration, wisdom, vital essence of compassion and forgiveness.
In Mother of God, Similar to Fire, priest-iconographer William Hart McNichols and mystical author Mirabai Starr collaborate to help make the perennial wisdom and love of Mary vibrantly accessible. Selected images of Mary, illuminated by Starrs lyrical prose-poems, embrace such diverse expressions as the Black Madonna, Latina, Bosnian, Greek, Italian, and Native depictions of Mother Mary. In these images of Mary we are reminded of what matters most, of what endures when all else seems lost, of what grace may yet be available when we meet fear with love.
2010
Paperback
128 pages. 
---
We Also Recommend