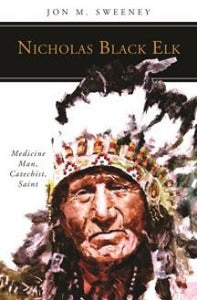 Nicholas Black Elk - Medicine Man, Catechist, Saint
R 34700

R 347.00
15% VAT included.
Shipping
calculated at checkout.
---
---
People of God Series
Author: Jon M Sweeney
Servant of God Nicholas Black Elk (1863 - 1950) is popularly celebrated for his fascinating spiritual life. How could one man, one deeply spiritual man, serve as both a traditional Oglala Lakota medicine man and a Roman Catholic catechist and mystic? How did these two spiritual and cultural identities enrich his prayer life? How did his commitment to God, understood through his Lakota and Catholic communities, shape his understanding of how to be in the world. 
To fully understand the depth of Black Elk's lifelong spiritual quest requires a deep appreciation of his life story. He witnessed devastation on the battlefields of Little Bighorn and the Massacre at Wounded Knee, but also extravagance while performing for Queen Victoria as a member of the "Buffalo Bill" Cody's Wild West Show. Widowed by his first wife, he remarried and raised eight children with his second wife. Black Elk's spiritual vision granted him wisdom and healing insight beginning in his childhood, but he grew progressively physically blind in his adult years. These stories, and countless more, offer insight into this extraordinary man whose cause for canonisation is now underway at the Vatican.
2021

Paperback

122 pages

---
We Also Recommend