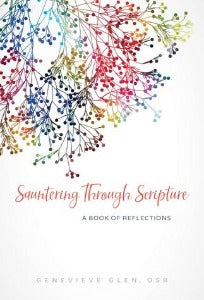 Sauntering through Scripture - A book of reflections
R 22600

R 226.00
15% VAT included.
Shipping
calculated at checkout.
---
---
AUTHOR Genevieve Glen, OSB
The bible presents a landscape rich with characters whose stories and prophecies, wisdom and woes, parables and prayers describe our very human struggle to know and respond to the love of God. Repeated reading and retelling makes these texts familiar, and yet we encounter them anew in these fresh, intimate, and sometimes startling reflections by master storyteller Sr Genevieve. Sauntering through this holy ground we enter small villages and busy towns, sheepfolds and gardens, a nomad's tent and a rich man's house, a stable in Bethlehem and the great temple in Jerusalem. Most of all we encounter the transforming message and mercy of God in Jesus Christ.

2018
Pb
140pp

---
We Also Recommend