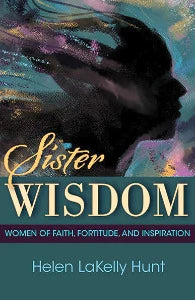 Sister Wisdom-Women of Faith, Fortitude, and Inspiration
R 31700

R 317.00
15% VAT included.
Shipping
calculated at checkout.
---
---
Author Helen LaKelly Hunt
"In short meditations that can be savored day by day, this delightful volume invites readers into the company of a panoply of inspirational women whose lives span from biblical times to the present. Helen LaKelly Hunt, an inspirational woman in her own right, has lovingly gathered here a surprising, diverse, and fascinating community of Wisdom Sisters whose stories and companionship can sustain, illumine, and enliven our own spiritual journeys. Highly recommended!"—Christine Firer Hinze, Chair, Department of Theology, Fordham University
"Helen LaKelly Hunt shares powerful lessons gleaned from the lives and struggles of seventy-nine women of faith. Whether your jam is Anne Lamott, Sojourner Truth, Elaine Pagels, or Hildegard of Bingen, you will find uncommon wisdom in this insightful, prayerful anthology." —Christine Schenk, CSJ, author, Crispina and Her Sisters: Women and Authority in Early Christianity                                                           
"These powerfully spiritual women from antiquity until today glow in Helen's account. They suffered but found joy, were enslaved but found freedom, were hated but expressed love. Joy, freedom, love: these hard-won qualities thrive in the communities described here of sisters whose force reveals wisdom in fully spiritual dimensions."—Bonnie Wheeler, director of medieval studies, Southern Methodist University, Dallas                                          
"Sister Wisdom is a guidebook you'll want to keep with you. I can't wait to gift it to all my women friends and read it with them."—Gloria Feldt, co-founder and president, Take the Lead         
 "More than just a book about women or for women, the stories in Sister Wisdom demonstrate a timeless transnational, transcultural, and transreligious reality and invite readers to recognize this healing, empowering love in their own lives."—Diana Dudoit Raiche, PhD, associate professor of theology, University of Dallas
Short meditations on women of faith—including saints, social reformers, and contemporary theologians.
2022
paperback
236 pages
---
We Also Recommend