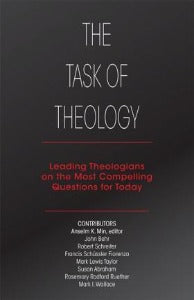 The Task of Theology - Leading Theologians on the most compelling questions
R 39500

R 395.00
15% VAT included.
Shipping
calculated at checkout.
---
---
The Task of Theology - Leading Theologians on the most compelling questions for today
CONTRIBUTORS INCLUDE;: Anselm Min, Editor; John Behr; Robert Schreiter; Francis Schussler Fiorenza; Mark Lewis Taylor; Susan Abraham; Rosemary Radford Ruether; Mark Wallace
This ecumenical collection of essays presents a rare opportunity to read and reflect on the work of some of the most prominent voices in contemporary theology.  Eight scholars answer the question: What is the most compelling theological issue today?  Accompanied by critical responses, the theologians describe informative indicators of the state of theology today as well as its prominent trends.  Together, they offer a resource for teachers and a chance to facilitate conversations among those working in an increasingly fragmented discipline.
"This book is a definite 'must read' for theologians or anyone who cares about the role of Christian faith in an ever more complex world.  Not only does it take on major dilemmas and challenges to Christianity, such as the multiple effects of globalization--postcolonialism, sexism, poverty, and the dissolving of Christian identity--but the authors refuse to offer simple or concise resolutions.  I look forward to using this book in a number of classes."  --Mary McClintock Fulkerson, Duke Divinity School
Scholars include John Behr on the splintering of theology as a discipline, Anselm Min on the radical erosion of Christian identity, Robert Schreiter on rethinking theology for a global world, Francis Schussler Fiorenza on engaging the public sphere in a pluralistic culture, Mark Lewis Taylor on mass incarceration, Susan Abraham on decolonizing Christianity, Rosemary Radford Ruether on liberating women and nature from Christian patriarchy, and Mark Wallace on redesigning the theology of creation and incarnation.
2014
Pb
266pp
---
We Also Recommend