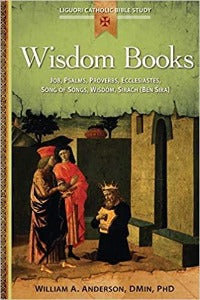 Wisdom Books - Job, Psalms, Proverbs, Ecclesiastes, Song of Songs, Wisdom, Sirach
R 26000

R 260.00
15% VAT included.
Shipping
calculated at checkout.
---
---
Liguori Catholic Bible Study
Author William A Anderson
Contents: Lectio Divina; How to use this bible-study companion: sacred reading and group-study formats; Introduction: Wisdom Books
From the suffering of Job to the pragmatic Proverbs, to the vanity of all things and the intimate love of God, these books serve as spiritual nourishment and instruct God's people how to live well and in accord with each other and all creation. Guided by the Spirit, all can learn to know, love, and fear the Lord.
The narrative, study questions, reflection, key notes, prayers, and an introduction to the spiritual practice of lectio divina will deepen your understanding of Scripture.
2014
Pb 
146pp
---
We Also Recommend