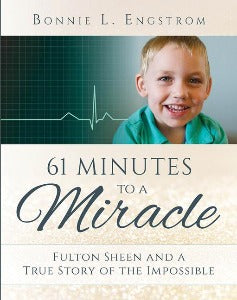 61 Minutes to a Miracle - Fulton Sheen and a true story of the impossible
R 22000

R 220.00
15% VAT included.
Shipping
calculated at checkout.
---
---
61 Minutes to a Miracle - Fulton Sheen and a true story of the impossilbe
Author Bonnie Engstrom
In that sixty-one minutes, the Engstrom's had been asking for and counting on the powerful intercession of James's namesake: Archbishop Fulton J. Sheen.
That James was alive at all was a miracle. But the rest of the story is even more amazing. While the Engstroms were preparing for their little boy to grow up blind, unable to walk or talk, and be fed by a tube for the rest of his life, another miracle occurred. Against all medical odds, James not only survived, but he began — and continues — to thrive. In 2014, medical experts and theological advisors to the Congregation for the Causes of Saints unanimously approved the miracle.
This amazing true story, full of weakness and strength, heartbreak and celebration, hope and joy, teaches us that through our faith in Christ and the prayers of the great cloud of witnesses, miracles are possible.
Paper Back
141pp
---
We Also Recommend