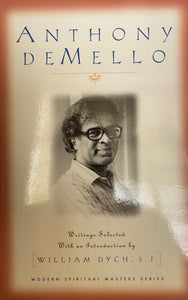 ANTHONY DE MELLO - Selected writings
R 22300

R 223.00
15% VAT included.
Shipping
calculated at checkout.
---
---
Writings Selected with an Introduction by William Dych SJ
Bringing together the wisdom of the East and West, Anthony de Mello used stories and parables to awaken his listeners to an awareness of God's presence in their midst.  Since his death in 1987, countless readers have been challenged to encounter God who lies behind words, concepts and religious formulas.  In the penetrating introduction by fellow-Jesuit William Dych and in his selection of de Mello's essential writings, readers may assess for them\selves the message of a true spiritual master of our times. 
Modern spiritual masters series 1999.   141 pages    
---
We Also Recommend