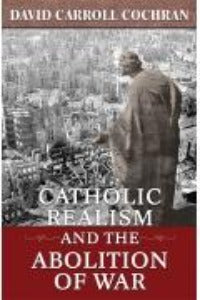 Catholic Realism and the Abolition of War
R 29400

R 294.00
15% VAT included.
Shipping
calculated at checkout.
---
---
AUTHOR David Carroll Cochran
 Argues that the same social forces that have opposed and overturned other modes of violence can also end war.
Is war an inevitable and inescapable reality of the human condition?  While arguments in favor of the judicious use of warfare (such as just war theory) often rely on what seem like "commonsense" or realistic attitudes toward the necessity of violence in an imperfect world, other forms of institutionalized violence, such as vendettas and duels, slavery, and lynching, were also often accepted as commonplace in American society.
Through a gradual and reinforcing process of changing social attitudes as well as public policies, Cochran argues, humanity can move toward the eventual elimination of war as an acceptable form of violence just as it has moved, albeit slowly and unevenly, toward the abolition of these other forms of institutional violence.
"If the causes of conflict resolution and Christian peacemaking are to gain ground in the coming decades, this progress will depend upon the kind of keen analysis that Cochran offers in this splendid book."--Thomas Massaro, S.J., Dean and Professor of Moral Theology, Jesuit School of Theology of Santa Clara University
David Cochran teaches politics and directs the Archbishop Kucera Center for Catholic Intellectual and Spiritual Life at Loras College in Dubuque, Iowa. 
2014
Pb
252pp
---
We Also Recommend