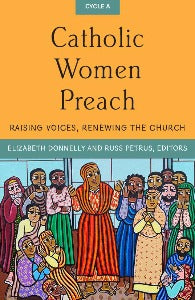 Catholic Women Preach Cycle A
R 31700

R 317.00
15% VAT included.
Shipping
calculated at checkout.
---
---
Raising Voices, Renewing the Church
Editors: Elizabeth Donnelly and Russ Petrus.
"From the first Pentecost to our own day, the spirit continues to pour out abundant gifts on the whole People of God. Central to the gifts bestowed in baptism is the commission to women as well as men from every nation to proclaim the good news that "the reign of God is at hand." This volume of preaching by faith-filled missionary disciples from around the globe is a valuable response to Pope Francis for a "more inclusive role for women" in the church's mission. The testimony of these women inspires unexpected hope and suggests creative possibilities for a fuller hearing - and living - of the gospel. At the same time, the collection raises the disturbing question of why we so rarely hear the gospel preached by women." -- Mary Catherine Hilkert, O.P., Professor of Theology, University of Notre Dame.
2022
296 pages
Paperback

---
We Also Recommend