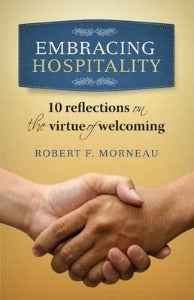 Embracing hospitality - 10 reflections on the virtue of welcoming
R 500

R 5.00

Save R 48
15% VAT included.
Shipping
calculated at checkout.
---
---
Author Robert Morneau
In these beautiful reflections, Bishop Morneau reveals how a welcoming spirit is at the core of a virtuous life. It is not an "extra," he says, but a centeral part of Christian discipleship. Hospitality given and received- fills us with Christ's peace and joy. Even a simple smile can be an expression of this great virtue. This booklet offers simple, practical suggestions parish leaders can use to encourage their community.
Pamphlet
23pp
---
We Also Recommend