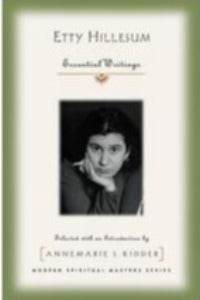 Etty Hillesum - Essential Writings
R 28500

R 285.00
15% VAT included.
Shipping
calculated at checkout.
---
---
Author: Etty Hillesum

Selected with an introduction by Annemarie S Kidder
"I know that a new and kinder day will come . . .  And there is only one way of preparing the new age, by living it even now in our hearts."
Like Anne Frank, Etty Hillesum (1914-1943) was a young Dutch Jewish woman who would perish as so many did in the Auschwitz death camp. Forty years after her death at the age of 29 the publication of her diaries, An Interrupted life, revealed to the world her remarkable voice. 
In the last two years of her life, Etty expressed a deeply ecumenical mysticism, drawing on scripture, literature, and Christian sources. As the noose of repression grew tighter, she faced up to her fate with extraordinary grace and courage, determined to affirm the goodness and beauty of life, and to make of her soul a haven for God. As she surrendered herself to the Westerbork Transit Camp she expressed her desire to serve as the "thinking heart of the barracks."
This volume, drawn from her letters and diaries, lays out the themes of her distinctive and inspiring spiritual vision, startling in its relevance and moving in its openness to the possibilities for hope in a world of brutal violence.
Annemarie S. Kidder is a Presbyterian pastor and assistant professor at the Ecumenical Theological Seminary, Detroit,

Modern Spiritual Masters Series

2009
Paperback
157 pages

---
We Also Recommend