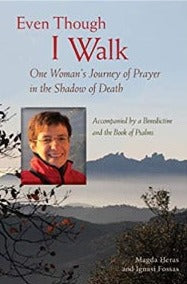 Even though I walk - One woman's journey of prayer in the shadow of death
R 35400

R 354.00
15% VAT included.
Shipping
calculated at checkout.
---
---
Author: Magda Heras and Ignasi Fossas
"To be honest, at this point only two things interest me: my oncologist's advice and if you can teach me to pray."
So began a two-year correspondence between a medical doctor who became a priest, Benedictine monk, and now prior of Montserrat — the monastery that is a spiritual, cultural, historical, and environmental icon in Catalonia — and an accomplished and beloved cardiologist, scientist, mentor, daughter, sister, wife, mother, and friend with a newly diagnosed lung tumor. In this profoundly honest book, two spiritual seekers on two different life-paths walk together through the valley of the shadow of death, praying the psalms in joy and anguish, doubt and praise.
The letters and conversations shared between Magda and Fr. Ignasi offer deep and poignant insights into the very human — and quotidian — dynamics of the life-and-death journey we all face.
2019
Paperback
---
We Also Recommend