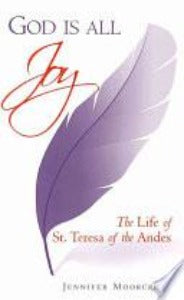 God is All Joy - The Life of St Teresa of the Andes
R 12000

R 120.00
15% VAT included.
Shipping
calculated at checkout.
---
---
AUTHOR Jennifer Moorcroft
Teresa of Jesus of the Andes, Chile's first canonized saint, was a vibrant young woman who loved sports and music and had a wide circle of friends. She entered Carmel and died only eleven months later at the age of nineteen. Each month more than 100,000 visitors flock to her shrine, many of them young people.
What is it about this young woman, barely out of school, that draws so many people to her and that is so outstanding that she is now a canonized saint? Because she is one of them, her own people love her. Young people love her because she became a saint by living the same sort of life as they do, in school, playing sports, enjoying her friends, and through it all, living her faith to the full.

Teresa's schooling demonstrates a thorough grounding, not only in theology, but also in philosophy, logic, and the humanities. Even more importantly, it was at the same time informed by a fervent and disciplined spiritual life centered on the sacraments and above all on the presence of Jesus in the Blessed Sacrament. Theologians, reading the writings of this nineteen year old girl, are amazed at the profound, reasoned and clear understanding she had of her faith, a faith that was alive, set on fire by her total love for God. Teresa's life bears witness

Jennifer Moorcroft tells this remarkable story for English-speaking readers so that they too may catch the fire of the love of God from St. Teresa of the Andes and find the joy and happiness that living in the love of God gives.
 2009
Pb
161pp
---
We Also Recommend