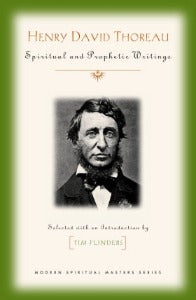 Henry David Thoreau - Spiritual and Prophetic Writings
R 24000

R 240.00
15% VAT included.
Shipping
calculated at checkout.
---
---
Edited with an Introduction: Tim Flinders
"Modern Spiritual Masters" series
Famous for his retreat to Walden Pond and "The Duty of Civil Disobedience" after spending a night in jail, Thoreau was a profoundly religious man while remaining unaffiliated with any organized church. He experienced mystical ecstasies in his youth; he followed an almost monastic discipline of contemplation; he explored Hinduism and Eastern religion which he integrated with his deep immersion in nature and his highly refined social conscience.
This anthology draws on Thoreau's voluminous journals, correspondence, and essays, including Walden and other key works providing readers new and old with the extraordinary depth and remarkable relevance of his spiritual thought.
2015
Pb
196pp
---
We Also Recommend