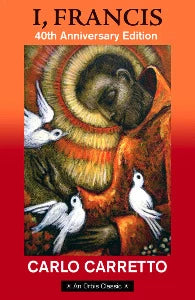 I, Francis -40th Anniversary Edition
R 28500

R 285.00
15% VAT included.
Shipping
calculated at checkout.
---
---
Author  Carlo Carretto
"Carretto's life, like that of Francis, was a combination of action and contemplation. In his book, I, Francis, Carretto speaks in Francis' voice, combining biography with what Francis might say to us today."—Richard Rohr, OFM, Center for Action and Contemplation
The 40th anniversary edition of an Orbis classic—Francis of Assisi's spirituality and life explained in an inimitable voice that could only be his own, except that it was Carretto's.
"I was born in Assisi, in Italy, eight hundred years ago. And eight centuries later I still remember a thing or two. . . . Middle class rich boy that I was, I never would have thought that it would be the poor who would be my salvation. . . . It was they who would put me back on my feet …"
2022
Paperback
139 pages
---
We Also Recommend