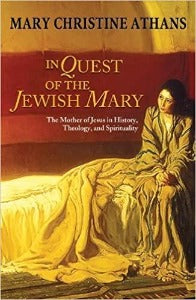 In Quest of the Jewish Mary
R 36400

R 364.00
15% VAT included.
Shipping
calculated at checkout.
---
---
AUTHOR Mary Christine Athans
Much recent theological study has focused on the Jewish cultural and religious context of Jesus' life and ministry. It is only natural that this attention should lead us to rediscover his Jewish mother, Mary of Nazareth, a woman of enormous courage, strength and prayer. 
"In Quest of the Jewish Mary: The Mother of Jesus in history, theology and spirituality is beautifully written, and opens up new windows of imagination. Inviting the reader to pray to God with the Jewish Mary is an inspired move that engages the reader's heart as well as the mind."
- Elizabeth Johnson
2013
Paperback
210 pages

---
We Also Recommend