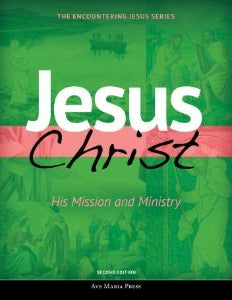 Jesus Christ - His Mission and Ministry - Student Textbook - Second Edition
R 47500

R 475.00
15% VAT included.
Shipping
calculated at checkout.
---
---
The Encountering Jesus Series - for Grade 11 and 12
Who is Jesus Christ?
The textbook's objectives include sharing what Christ reveals about God, uncovering the mystery of the Incarnation, and exploring how growing in discipleship with Jesus helps students live a better life.
The second edition includes exciting new features to keep students engaged:
contemporary news openers that connect with the chapter material;
note-taking prompts that help students highlight, outline, and remember what they've read; and
infographics and photo essays that incorporate key concepts and will resonate with today's digitally connected teens.
Popular features found in the first edition remain: three chapter assignment options geared toward a specific learning style; focus questions and chapter summaries; vocabulary terms boldfaced and defined in the margins; profiles of saints; and prayer suggestions. In addition, the "Hands, Hearts, and Minds" feature in each chapter fosters service, prayer, and investigative learning.
Contents: God's revelation and your response; Jesus Christ: True God and true man; Tracing the life of Jesus; Jesus reveals what God is like; Jesus reveals more about God in three Divine persons; Friends and disciples of Jesus; Jesus and you.
Large format
Pb
346pp
Colour Illustrations
---
We Also Recommend