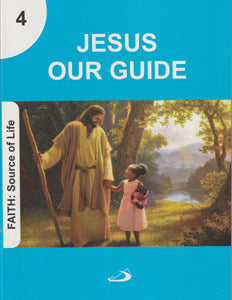 Jesus our Guide - Faith: Source of Life Series 4
R 4000

R 40.00
15% VAT included.
Shipping
calculated at checkout.
---
---
Contents suitable for Grade 4 - Post First Communion
30 lessons which include:   The fall of man; World's first murder; Turning away from God; God prepares a People for the Saviour; The people of Israel;  Joseph goes to Egypt; God's People suffer in Egypt; God saves His People; Life in the Promised Land; King David; King Solomon; The final King; An invitation to heaven; Road signs along the way; Loving others; Jesus our Guide; Mistakes along the way; Turning back to God; The Holy Spirit; The Church of Christ; Channels of Grace; Mary our Mother; We reach our goal. Word to learn; Prayers
Faith: Source of Life is a catechetical series of 10 books for school children. There are teachings and activities, questions and answers suitable for each age group. Also suitable for home-schooling.
2018
Pb
96pp
---
We Also Recommend