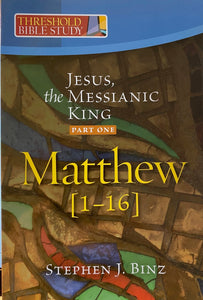 JESUS THE MESSIANIC KING
R 9200

R 92.00
15% VAT included.
Shipping
calculated at checkout.
---
---
Part One Matthew 1-16
by Stephen J Binz
Matthew's gospel presents Jesus as Israel's royal Messiah, inaugurating God's kingdom in the world.  It was written to help Jewish Christians understand that their faith in Jesus was entirely consistent with the faith of ancient Israel.  This study will help you understand the scope of this gospel, the clear advice it offers for the church, and its personal implications for the lives of the disciples today. 
Twenty-third publications.   Paperback 2010.  130 pages
---
We Also Recommend