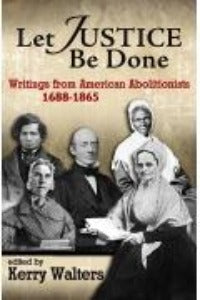 Let Justice be done - Writings from American Abolitionists 1688-1865
R 38600

R 386.00
15% VAT included.
Shipping
calculated at checkout.
---
---
EDITOR Kerry Walters
Almost from the first arrival of enslaved Africans in 1619 until the end of the antebellum period, a prophetic crusade to eliminate the sin of slavery stirred the American conscience. The abolitionists were deeply faithful Christians who believed that if anything was contrary to the will of God, it was human bondage. Mocked, threatened, and abused, their influence was ultimately profound.
Let Justice Be Done includes representative voices of the abolitionist cause—women and men, black and white. Among them are towering figures such as William Lloyd Garrison, Frederick Douglass, Sojourner Truth, and Lucretia Mott. Their struggle against one of the greatest evils to blemish American history demonstrated that religious faith can and rightfully should be a powerful force in calling out injustice, speaking truth to power, and planting seeds of change.
Kerry Walters is professor emeritus of philosophy as well peace and justice studies at Gettysburg College.
2020
Pb
176pb 
---
We Also Recommend