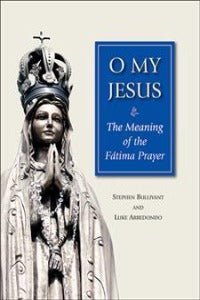 O My Jesus - The Meaning of the Fatima Prayer
R 12000

R 120.00

Save R 55
15% VAT included.
Shipping
calculated at checkout.
---
---
AUTHOR Stephen Bullivant and Luke Arredondo
The so-called Fatima Prayer, O my Jesus, forgive us our sins, save us ... - due primarily to its widespread use as a rosary decade prayer, surely ranks among the Church's most popular prayers.
Despite its brevity, it is a prayer of remarkable theological depth - not to mention, daring. In the space of just twenty-nine words, it broaches some of the great themes of Christianity: sin, forgiveness, mercy, heaven, hell. It also touches on two hot topics within contemporary Catholic discussion - having a personal relationship with "my Jesus," and the permissibility of hoping that "all souls" may ultimately be saved.
This is a concise work of both popular theology and spiritual writing.
2017
Pb
76pp 
---
We Also Recommend