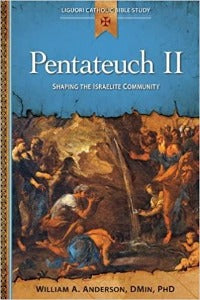 Pentateuch II - Shaping the Israelite Community
R 26000

R 260.00
15% VAT included.
Shipping
calculated at checkout.
---
---
Liguori Catholic Bible Study
Author William Anderson
What laws and feasts were created for the Israelite people?
How do the events of Leviticus, Numbers and Deuteronomy apply to our lives today?
How does lectio divina move us to pray with scripture?
Though many of the rules seem ancient by today's perspective, the laws themselves were life-giving for the Chosen People, as they helped the Israelites order their lives according to God's commands - and in hope of God's promises.
Journey with Moses and the Israelites and you will grasp more fully the reality of the gospels. As many Christian celebrations originated during this time, exploring these early books of the bible will enrich your understanding of how to Israelites' desert passage and their rituals set the stage for our Lord's work of redemption.
Includes study questions, reflections, keynotes, and prayer.
2013
Pb
144pp
---
We Also Recommend