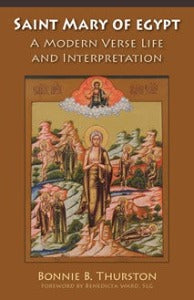 Saint Mary of Egypt - A modern verse life and interpretation
R 34000

R 340.00
15% VAT included.
Shipping
calculated at checkout.
---
---
Author: Bonnie B Thurston
From its origins in the fourth and fifth centuries, first in monastic circles and then in wider Christian communities, the story of Mary of Egypt was wildly popular.
From early Christianity through the medieval periods, from Egypt to Scandinavia, verse lives in Greek, Latin, and vernacular languages portray her as the model of repentance.
Continuously venerated in the liturgy and icons of the Orthodox Churches, she is now seldom known in the West. This modern verse life and the accompanying essay reintroduces St. Mary's extraordinary life, its theological and spiritual implications, and its remarkable depiction of gender complementarity.
2021
Paperback
120 pages
---
We Also Recommend