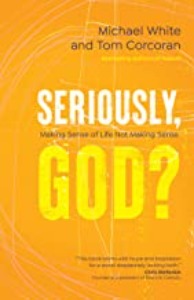 Seriously, God?
R 34500

R 345.00
15% VAT included.
Shipping
calculated at checkout.
---
---
Making sense of life not making sense
Authors: Michael White & Tom Corcoran
A friend's child dies; a parent is diagnosed with cancer; your spouse loses their job. Sometimes life and God's plan don't make sense, and we end up feeling hurt and angry.
Fr Michael and Tom Corcoran explore the denial, doubt, and betrayal we experience when we face hardship, pain, and grief, and they encourage us to lean into our feelings and take each circumstance as a chance to learn more about God.
This book treats the problems of suffering and evil not as arguments to be overcome but as invitations to a deeper faith.

2021
Pb
158pp 
---
We Also Recommend