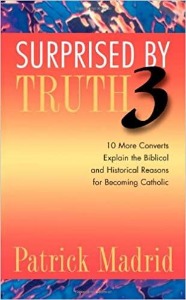 Surprised by Truth 3
R 29200

R 292.00
15% VAT included.
Shipping
calculated at checkout.
---
---
These tales will do for you what these converts had to do for themselves: answer the most common objections to the Catholic Faith - and answer them in terms that non-Catholics find familiar and easy to understand.
These stories will remind you of the critical truth that all converts know but most others forget: churches must not be judged by the weakness of their members, but by the truth of what they teach.
The closer these former Protestants looked at Catholicism, the more they found that Christ's truth is taught in its fullness only in the Catholic Church. No wonder this book is a convert maker.
But these stories do more than make converts. If you're already Catholic, they help you explain your Faith to non-Catholics and leave you prouder and more grateful than ever to be in Christ's Church.
2002
Paperback
252 pp
---
We Also Recommend