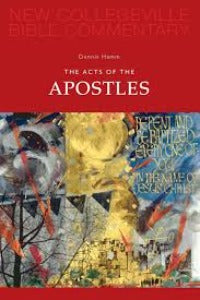 The Acts of the Apostles
R 15400

R 154.00
15% VAT included.
Shipping
calculated at checkout.
---
---
The Acts of the Apostles (Volume 5)
New Collegeville Bible Commentary Series
AUTHOR: Dennis Hamm
In his Introduction to this instructive commentary, Dennis Hamm welcomes us to  sequel, one that might better be called "The Gospel of Luke: Part Two". Before we get to any of the acts of the apostles, Luke picks up where his Gospel ended, namely the ascension of Jesus.
Acts tells the story of the spread of the Gospel and the growth of the early church from its beginnings at Pentecost, following the ascension of Jesus. The Holy Spirit empowers the preaching of Peter, Paul, and the other disciples to take the faith from Jerusalem, to Judea, throughout Samaria and ultimately to the ends of the earth.
It records the conversion of Paul and the momentous decision of the early church to welcome Gentiles as well as Jews into the church. 
2005

Paperback

135 pp
---
We Also Recommend