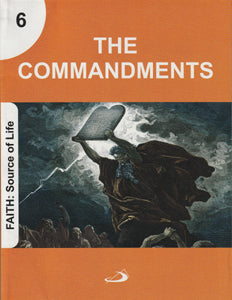 The Commandments - Faith: Source of Life Series 6
R 4000

R 40.00
15% VAT included.
Shipping
calculated at checkout.
---
---
Contents suitable for Grade 6
31 lessons which include:   God gives us the Law; The First Commandment in our own day; Prayer - Hidden Treasure; Saints - They made the most of it!; The Holy Name; The Cross and true riches; In the heart of the family; Citizenship - Rights and duties; Church authority; Respect life; Charity towards all; The beatitudes; New Life; Come into the Lord's Presence Singing for Joy; Speak Lord your servant is listening; Preparing our hearts for Jesus; Come Lord Jesus; His Abiding Presence; Passage into Eternity; Heaven - purgatory - hell; He shall come again. Words to learn; Prayers
Faith: Source of Life is a catechetical series of 10 books for school children. There are teachings and activities, questions and answers suitable for each age group. Also suitable for home-schooling.
2018
Pb
88pp
---
We Also Recommend