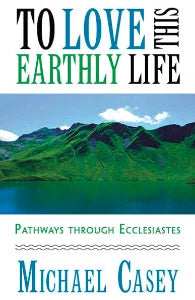 To Love This Earthly Life - Pathways through Ecclesiastes
R 38000

R 380.00
15% VAT included.
Shipping
calculated at checkout.
---
---
Author Michael Casey
To Love this Earthly Life, reflections on the book of Ecclesiastes, is the latest work by Trappist monk Michael Casey, whose biblical studies bridge the divide between scholarly analysis and prayerful reflection. The title may surprise readers, who regard the author Qoheleth, as a gloomy fellow. But as F. Casey notes, "His central point is, quite simply: Make the most of your life as it is, because it is the only one you will ever have. . . . If we cannot love the reality we see, any love we profess towards what is unseen must be considered delusional. . . .So, let's get on with it"
"Casey reflects on Qoheleth's reflections on life through the lens of the well-known expression carpe diem, which he renders 'make haste to pick the fruit now, tomorrow is uncertain.' The yield produced here is rich indeed."--Diane Bergant, Catholic Theological Union
"Few of us have more than a superficial acquaintance with the book of Ecclesiastes. Mistakenly, we think we know enough of its message: "vanity of vanities, all is vanity." But if we stop there, we have much to lose. In his skillful exploration of the realities of life as perceived by Qoheleth, Michael Casey offers us a compass for new perspectives on our own life experiences. Following the pathways he forges, we discover a wisdom that enables us to fully live—and love—each day of our earthly life in all its "mixity". It is a wisdom that will enrich our lives."--Sister Anne Elizabeth Sweet, OCSO
2021
Paperback
153 pages
---
We Also Recommend