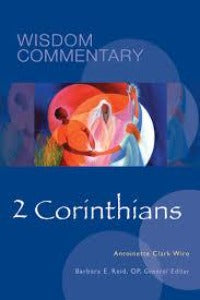 Wisdom Commentary: 2 Corinthians
R 35000

R 350.00

Save R 358
15% VAT included.
Shipping
calculated at checkout.
---
---
Wisdom Commentary: 2 Corinthians
AUTHOR: Antoinette Clark Wire
When 2 Corinthians is read as a whole in the early manuscripts, we hear a distraught and defensive Paul, struggling to recover the respect of the Corinthians that he assumed in 1 Corinthians. Scholars have supplied a recent visit gone awry to explain this, but Wire argues that the Corinthians have not kept the restrictions Paul laid down in his earlier letter. It is Paul who has changed. No longer able to demand that they imitate his weakness as he embodies Jesus' death, he concedes and even celebrates that they embody Jesus' power and life and thereby demonstrate the effectiveness of his work among them.
With special attention to the women in Corinth who pray and prophesy, Wire looks at each part of 2 Corinthians through three feminist lenses: a broad focus on all bodies within the tensions of the ecosystem as Paul sees it; a mid-range focus on the social, political, and economic setting; and a precise focus on his argument as evidence of an interaction between Paul and the Corinthians. When Paul ends with "The grace of the Lord Jesus Christ, the love of God, and the partnership of the Holy Spirit," the Corinthians have pressed him to reshape his message from "yes but" and "no" to "yes," from a tenacity of qualifiers and subordinations to an overflow of encouragements.
2019
Hardcover
329 pp
---
We Also Recommend