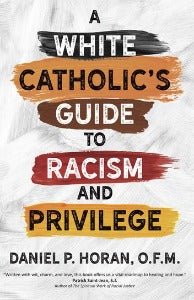 A White Catholic's Guide to Racism and Privilege
R 36000

R 360.00
15% VAT included.
Shipping
calculated at checkout.
---
---
Author: Daniel P Horan, OFM
Growing up, Fr. Daniel P. Horan, O.F.M., never thought much about race, racism, or racial justice except for what he read in history books. His upbringing as a white, middle-class Catholic shielded him from seeing the persistent, pervasive racism all around him. Horan shares what he has since learned about uncovering and combatting racial inequity in our nation, USA,  and in our Church, urging us to join the fight.
Horan offers us the hope and surety of the Gospel, the wisdom of Catholic tradition, and some practical ways to educate ourselves and advocate for justice.
Each chapter includes a substantial suggested-reading list. This book is perfect for individual or group study.
Contents include:  What is racism and how do we talk about it? What does it mean to be White? Racism is a White Problem; Systems, Structures and Institutions; What does the Catholic Church teach about racism? How to be more of an ally and less of a problem; Where do we go from here?
2021 
Pb
194pp
---
We Also Recommend